When Google ranks a Google my Business listing, it considers three major ranking factors. Many people are perplexed and think to themselves, "No, there are hundreds of criteria that Google considers." That is somewhat true. However, all of these other features are classified and fall into the three parent categories.
In reality, if you look a little deeper, Google not only informs us of these three factors, but it also specifies exactly what they are. As can be seen in the figure below, it explains how Google determines which GMB ranks above another in local search.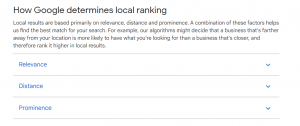 Local search results are based primarily on the relevance, distance and prominence.
These variables are combined to help potential clients to find the best possible match for their search. Google algorithms, for example, may conclude that a business that is farther away from a person's location is more likely to have what they're searching for than one that is closer. As a result, it ranks it higher in local search results.
This is what Google tells us. Relevance, distance, and visibility are the three factors that determine how high you rank in maps.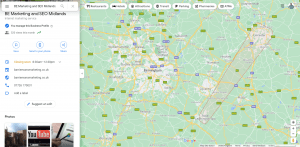 Ranking Factors For GMB Broken Down
Let's look at each one in a bit more detail.
Relevance.
Relevance refers to whether a user's search queries are in line with the company's local listing. Adding complete and accurate company information may help Google in better understanding your business and matching your listing to relevant searches from consumers.
Google is claiming that a business's listing must be related to the person's search query. Let's assume you're a painter who resides in Birmingham and someone searches for "painter Birmingham". Google will examine your GMB listing and see how relevant it is for both of those words, according to its algorithm.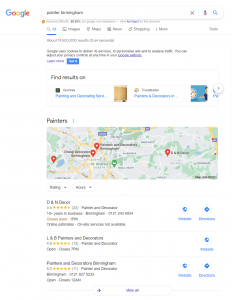 If the searcher's search query isn't matched by your listing, Google will not show it.
Distance.
The distance between a business and the location specified in a search is determined by how far they are from one another. If a customer does not include a location in their query, Google will estimate distance depending on what it knows about the area.
This implies that Google will return firms that are closer to you than others in most cases. If you live in Nuneaton, for example, and search for "painter," Google considers your location, even if you didn't write it in.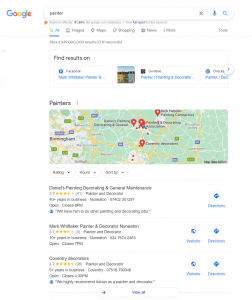 As a result, Google will provide you with listings for painters that are all based in Nuneaton. This is an essential fact to remember since distance is one of the few things we can't control.
You can't filter your results by location if you're based in Birmingham, no matter what you do. If someone types in painter Cardiff, your listing won't appear because you're too far away. It's also worth noting that being in the right city does not guarantee that you'll rank in the map listings.
This is due in part to the fact that you may not be the business closest to the individual who performed the search. There may be three or four painting firms closer to the individual who conducted the search.
I'm not suggesting that if you perform a search, Google will only show businesses that are the most convenient for you. However, I've noticed it more and more frequently lately.
Prominence.
This is the most important of the major ranking factors, and we have a lot of control over it. If we do a fantastic job with this, the distance will have less of an impact on our GMB listing. The degree of renown for a firm is referred to as prominence.
Different places have different degrees of popularity in the real world and search results attempt to reflect this in local rankings. Famous museums, landmarks, hotels, and well-known shop brands that are recognised by many people are more likely to appear at the top of local search results.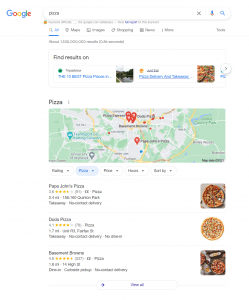 Google also considers data from across the internet, such as links, articles, and directories, to determine a company's prominence. That is quite significant.
Local search results are also determined by the number of Google reviews and rating. The quantity of reviews and favourable opinions will improve a company's local SEO rankings. Your position in standard organic search results is one factor that also affects your GMB ranking.
Search optimisation, like organic SEO, is also affected by best practices. It's considerably easier than the distance factor. And what Google is telling us here, essentially, is that they like to see businesses with more visibility and authority in the local search results.
GMB Ranking Factors – Citations
This is where you can rank higher than your competitors. A citation is simply another website that links to your company. It could be a blog post, a forum comment, or even the company's homepage. They also help to verify and cement the major ranking factors that are vital for your online presence.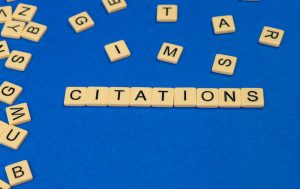 You can start with citations from social media. Make sure you include a link to your website and GMB listing from your Facebook, Twitter, Linked In etc.
Create some simple promotional videos and upload to You Tube. Include your links in the description with your company Name, Address and Phone Number (NAP) and this will be a powerful link from a Google Entity.
Go to Bing and create Bing Places listing. This links to your GMB directly and updates when you update your GMB too. If you don't use Bing and don't think it's important, remember that it's Microsoft and a high authority, powerful citation.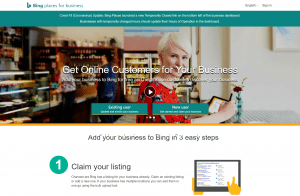 Also, with a Bing listing active, you can set up a Yelp business listing and then Apple Maps when both Bing and Yelp are live. These are also high authority citations and more than worth the effort to get them done.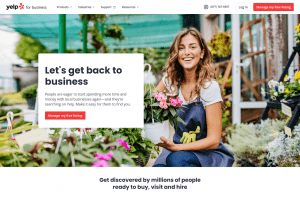 Other citations include local business directories. Based on the country where you live, these could be a couple of hundred at least. Some are paid, but most will give you a link to your website for free. It's good to start with directories with the highest authority like Yell.com to name one.
For a list of country specific directories, you can go here. If you want to find a service that will help you build citations to important sites, try Bright Local where you can book a demo here.
How Citations Can Improve the Ranking Factors
As mentioned above, the main ranking factors that are taken into consideration when Google populates the local search results are as follows:
Relevance – The business must be found both geo-relevant and topically-relevant to the search phrase.
Distance – Google determines where to arrange local businesses in the search results by their distance from the searcher's location.
Prominence – this factor is about how well the brand is established online. Google determines a business's prominence score by scraping for any and all info that can be found about them on the internet.
Specifically, the total amount of documents that reference the company directly impacts the local prominence of that business. These documents are referred to as brand documents, and the more documents you create for the brand, the higher their prominence rating will be.
By creating local business citations, you'll be increasing the total number of brand documents that refer to your company. You will be able to get those citations indexed and improve the brand's local prominence score if they are optimised well.
The importance of relevance, distance and more significantly prominence cannot be stressed enough to improve the ranking factors of your website and business listing.
Users may also leave reviews on a company's profile on various sites, such as Yelp, to share their consumer experience with others. The content of said evaluations, and especially the overall review score of a business listing on third-party platforms like these, can be exploited to influence local prominence for a brand.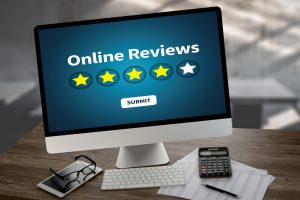 In further detail, the Google patent that refers to user reviews on third-party websites states:
"…instructions for assigning a score to a document based on a combination of two or more of a score associated with another document that is identified as authoritative for the document, a total number of documents referring to a business associated with the document, a highest score associated with the documents referring to the business, a total number of documents with reviews of the business, a number of information documents that mention the business, a numeric score of a review of the business, a function of a plurality of scores of reviews of the business, a type of document containing a review of the business, a type of language used in a review of the business…"
Another technique to guarantee that your firm's local visibility increases is to build out the backlink profiles of the top company citations. Many of you will feel this step is optional, but it isn't. Your goal should be to obtain the highest search ranking value for any pages that reference the company NAP.
The company name, address and phone number (NAP) should be the same on all of your business listings.
Finally, it's essential to monitor your third-party profiles for any oddities that might appear in your search console account.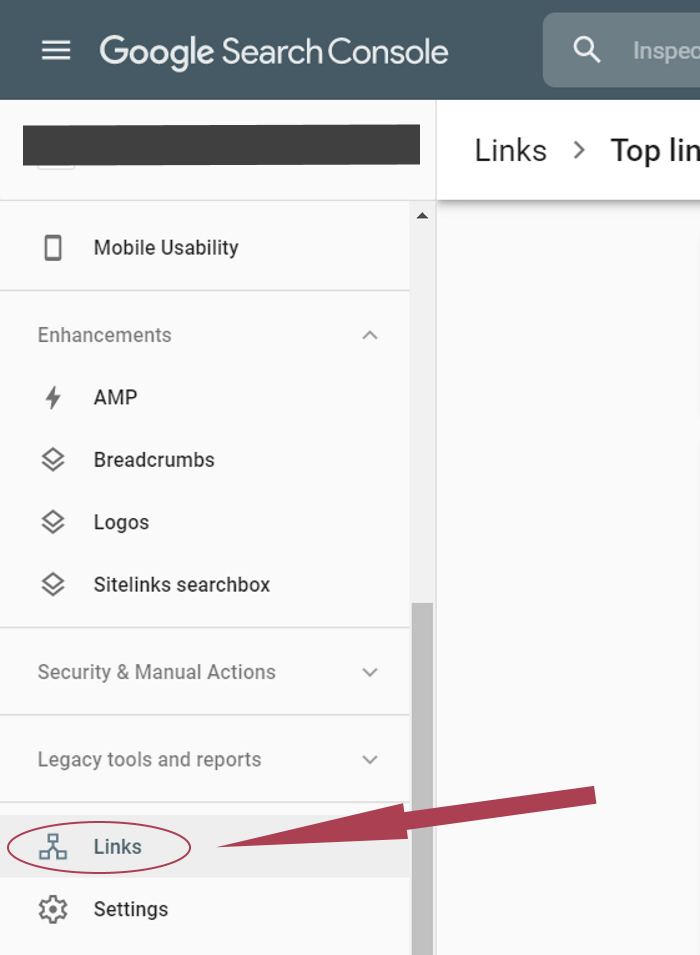 Always check these each month to see which profiles were removed or added to your listing, whether there are any duplicate NAPs showing up within them, whether one NAP shows up more than once on a profile with slightly different information, or whether some profiles are left out completely. This type of monitoring will guarantee that you send Google no mixed signals when it comes to your online presence.
Implementing Google My Business ranking factors into practice can improve local search rankings. You need to get started by investing in local business citation building.
Contact us to find out more about Google My Business ranking factors and how it can help your business today.