The most prevalent benefits of Google My Business are:
Google My Business helps you find customers who are looking for your business
Google My Business is free to set up and easy to use
Emotional benefits of Google My Business:
Google My Business lets you tell the world about what makes your business special.- Google My Business doesn't take up your time.
Google My Business helps you find people who are looking for what your business offers.
Let's Look At These Benefits Of Google My Business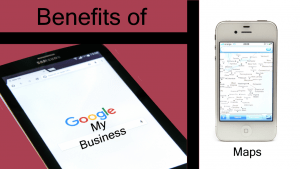 Consumers can benefit from up-to-date, accurate Google My Business listings in a variety of ways.
1. Making it simpler for searchers to discover crucial information
Having a GMB profile makes it much simpler for customers to discover information such as a company's phone number, address, and even their health and safety policy.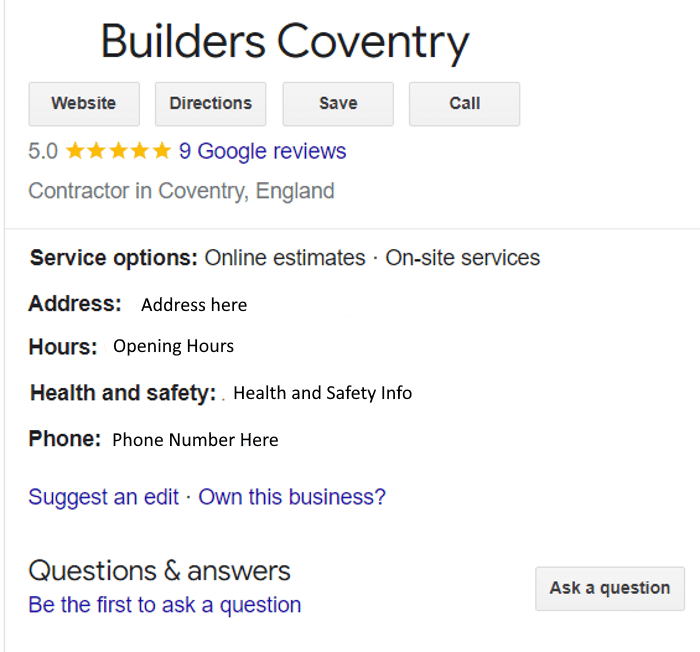 Have you ever felt the urge to contact and inquire about something or check a firm's hygiene standards before visiting?
With all of this information readily available on a company's GMB listing, customers can go about the more essential tasks, such as determining whether or not a business service is suitable for their needs.
2. You can quickly and simply compare local businesses in one place.
Searchers may find it difficult to browse different companies' websites. It's simple to compare and contrast businesses' products using Google My Business.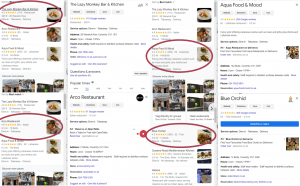 Take a look at the preceding example to see how much information a searcher can obtain just by glancing through a few Google Maps listings.
When you can identify these factors, it saves time and reduces stress for everyone. This makes the searcher's journey far easier, allowing them to make a decision much more quickly.
You may quickly win a new client if you have high local rankings, provide relevant services, and give the searcher enough information.
3. Searchers can quickly view photographs, customer reviews, and special offers from local businesses.
Businesses may use photographs and postings to promote their products, brand, and even personalities.
These are the features that searchers will most likely be focused on, giving them all of the information they need.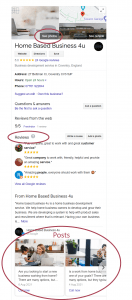 Knowing what a local independent coffee shop looks like (Does it have an outdoor seating area? How much space?) might help searchers to find what they are looking for. Reading the reviews about your company's ability to provide what they need will allow them to decide if it's right for them.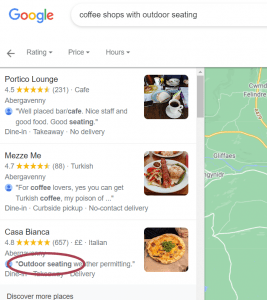 This sort of service is particularly important in saturated areas, where consumers may feel overwhelmed and inundated by choice. Your potential customers will be grateful that you've saved them time and energy by providing them with all the information they need to make a decision.
It might save you time as well. After all, searchers no longer need to contact your business and ask these questions since the answers are immediately visible on your GMB profile.
In the same way, review content may solve issues of this sort.
As a result of this, when the searcher contacts your business or visits you in-store, he or she is even more likely to buy your product or service. Consider it like this: you've transformed a lead from lukewarm to hot without lifting a finger.
4. Google My Business makes it simple to make bookings and appointments.
With Google My Business's Book an Appointment function, customers may now access your listing to obtain everything they want. This might be a really beneficial function for beauty salons, spas, dentists, and other appointment-taking enterprises since it saves both the searcher and the company time.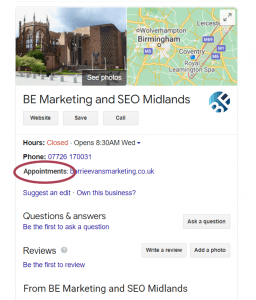 Customer journey simplification with technologies like this is only going to result in happier consumers, which will translate into happier business owners.
5. Users of Google Maps may follow and create lists of their favourite local businesses.
You may think that Google Plus is finished? However, Google isn't done experimenting with social and community platforms. Even Google Maps has a social side!
Customers can save businesses they like and create a list of their favourites. This makes it simpler for searchers to stay up with their favourite local merchants, as well as support them.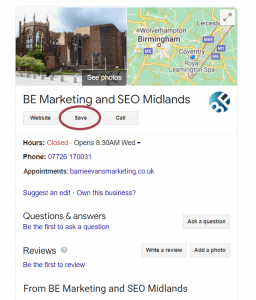 On Maps, when a user chooses to follow a company, they will be notified of Offers, Events, Posts, and any changes to opening hours. This saves time and makes the user journey far easier.
Customers will feel even more connected to firms thanks to this component of Google My Business, which is particularly important in the age of eCommerce companies like Amazon.
6. 'The 'Justifications' feature makes it simple for searchers to determine how relevant a company's services are to their search.
Google My Business has streamlined the search for relevant, nearby businesses. Google (usually) succeeds in displaying the appropriate firms to people's search queries owing to the ever-evolving local algorithm.
As a consequence, finding the best business is simple.
When I search for anything niche, like a specific item, you can see what happens: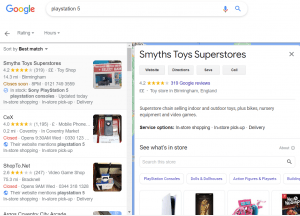 Google Maps shows relevant companies and highlights content that could be helpful to me during my search.
Google has returned Q&A content it thinks will be relevant under the line "Related to your search," highlighting keywords in response to queries about the product.
Google frequently does this in order to provide more relevant results.
When I search for a restaurant that is child-friendly, Google will return results in which the term has been used in reviews or even on the company's website (in the case of Casa Bianca, below). This feature is sometimes known as "Justifications."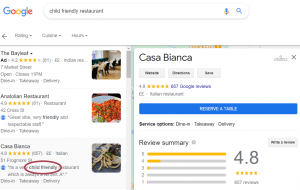 7. It enables customers to give feedback and help local business improve.
Google My Business allows users of Google Maps to write their own comments on businesses and validate the views of others, ensuring a more accurate viewpoint of the business.
Google ensures that any data present on GMB profiles is as up-to-date as possible using user-focused features like "Suggest an Edit" or "Give Feedback."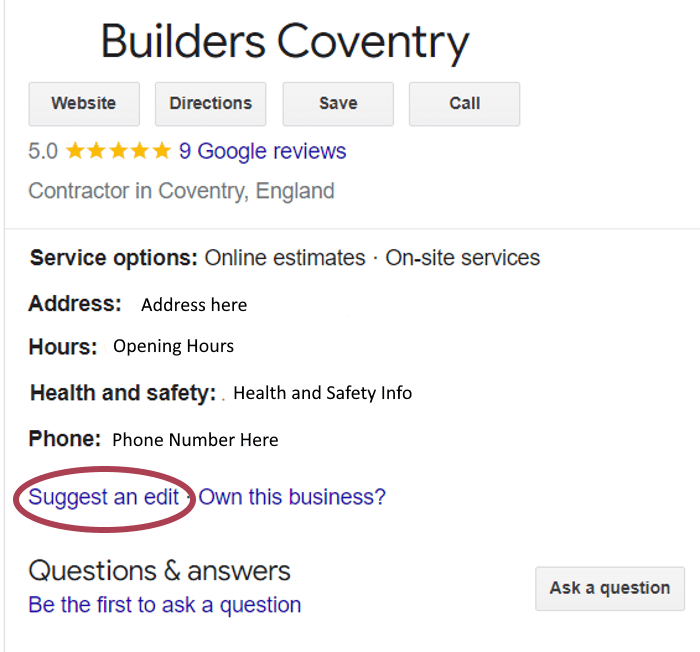 GMB also includes crowdsourced characteristics like Q&A, reviews, and even photographs.
This decreases the amount of time it takes to find and identify the most relevant local business for a user's query.
I hope you can see the benefits of Google My Business now. It is certainly a powerful asset for both business and consumer alike.