Google My Business insights is a great tool for maintaining your business's online reputation. It allows you to see what keywords people are using to find your business, how many reviews you have, and how visitors are interacting with your website.
Google My Business is an excellent tool for discovering and converting new consumers, but it may also teach you a lot about your audience's search habits.
In this article, we'll look at what you can learn from Google My Business Insights and how to use it.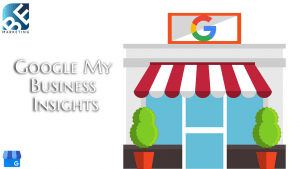 What is Google My Business Insights, and How Does it Work?
Google My Business Insights is a free Google tool that displays how people found your listing and what actions they took on it. It includes data about your local search performance, such as the number of views your listing has received, how people find you via search, and the types of interactions visitors have with your listing, such as clicking through to your website or placing a phone call.
It is an excellent source of information for those who are trying to learn from their audience's search behaviour. It also helps improve customer acquisition through a variety of digital marketing channels.
These insights allow you to track user engagement. You can see how effective your efforts have been at reaching customers and helping them interact with your business the way you want them to. This allows you to make informed decisions about adjusting your marketing strategy.
Google My Business Insights also helps you identify opportunities for organic growth by showing you what consumers are searching for in your area and how many searches that phrase receives. By finding untapped keywords, you can decide if taking the time to pursue them is worth it.
When you first log into Google My Business Insights, you'll see data on new vs. returning visitors and your total page views for the past 28 days. By looking at these numbers, you can determine whether your current marketing efforts are helping new customers find your business or if there are more returning customers than people finding you for the first time.
This is what you will see when you first land on the page: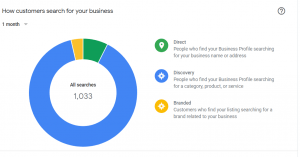 What Are the Advantages of Google My Business Insights?
Insights for Google My Business is beneficial for two primary reasons:
It helps in your understanding of how consumers locate your firm.
It helps you in determining what actions your visitors take on your listing.
The more data you have at your fingertips, the more effectively you'll be able to upgrade your listing and get people to take action.
How to Effectively Use Google My Business Insights
Now that you know why Google My Business Insights is beneficial, let's look at how to make use of the data it provides.
Here's how to access and use Google My Business Insights:
Log in to your Google My Business profile.
The Home page should appear, and to the right of the screen is the "Performance" box, which displays data from the last 28 days in Search and Maps.
On the left-hand side menu, choose Insights instead.
The Insights data is broken down into several distinct components, each of which can assist you in better understanding your listing. Let's have a look at them one by one.
How do customers look for your company?
Understanding how customers search for your company isn't only interesting; it may also help you make better marketing judgments. The three sets of numbers at the top of the Performance box are Views, Searches, and Activity.
When you click on Insights, a panel will appear and display information about direct and discovery searches (and more).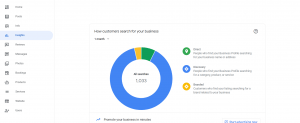 What is a Direct Search?
A Direct Search is when someone goes to Google and types in your company's name or address. You may infer a lot from this data. This includes that these are people already familiar with your business and have searched with the intention of finding your listing. They may be looking for information about it, such as consumer reviews. Regardless of their purpose, they are people actively looking, and as such you may choose to pay more attention to them.
What is a Discovery Search?
"Discovery Search" is an instance of local search results when a user types in something general, such as "electrician near me," or "restaurant open now." It will be recorded if your business shows up in the search.
What is a Branded Search?
A branded search is when a customer searches for a brand that is associated with your business. For example, if someone searches for "Dominos," Google might show them listings from similar pizza restaurants. The Branded Search category appears in GMB Insights only if your firm has been shown at least once for this sort of query.
Users who were referred to you by Discovery may or may not be familiar with your company, but they haven't set out to look for you specifically. These searches are broad in nature and typically pertain to a specific want and the desire to locate a product or service that meets that need.
What conclusions can we draw from these figures?
If the Discovery figure is lower than your Direct number, it's an indication that you need to reconsider your local SEO strategy. A higher Discovery search count indicates that you're accessible to new consumers rather than depending only on people who are familiar with you for web traffic and sales.
Click on Insights in the left-hand menu to see this information in graph form.
Search Terms used to find your business
The content in this section, which is part of the new version of insights can provide a valuable content optimisation resource. Click new profile performance to open a pop up page.

Scroll down the pop up page a little and you will see this: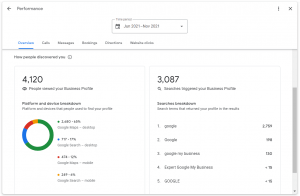 It displays the top search queries, which you can use to ensure that you're using the correct keywords on your blogs, web pages, and Google My Business Posts.
Where customers view your business on Google
This part displays where your Google impressions originated: as a typical Google search or from inside Google Maps (desktop site or app).
What are GMB Insights Views and how do they work?
The Google My Business views statistic measures how many people have looked at your business listing. The number of Impressions can be thought of as a measure of how many people your listing has been able to reach.
The Listing on Search box displays the total number of listings in different locations, while the latter is broken down into regions. The week, month, and quarter are all listed here.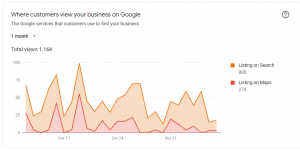 This may not appear to be beneficial at first glance, but it will really show you how well mobile optimisation is working. This is more important if you' have a high-traffic business like a restaurant or hotel.
Customer actions
Next, you'll find the Customer actions area. This data is useful in determining how to manage your listing and what to do next if you're unsure.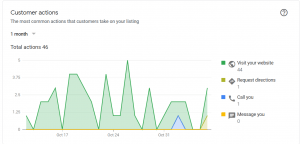 This portion of Google My Business Insights explains what sort of action a searcher typically performs on your listing. This could be anything from visiting your website, wanting directions, or making phone calls to your company.
This information may help you refine your GMB profile further. A number of direction requests suggests that people want to go to your location. This might inspire you to develop a post about nearby parking facilities or bus stops, for example.
You could also use the contact page on your website to offer directions, parking, and public transport access to those who are planning to visit.
This is one of the most significant metrics, so be sure to study it closely. The number of Actions on your listing depends on how well you manage it and what kind of content you add. A more detailed description, or photo galleries may help more users take action when they see your business on search engines and maps.
Depending on the action, additional information may be available. You'll see a map showing where those direction requests came from if search users have requested directions.
Directions requests
When a GMB user clicks on your profile's "Directions" link, you'll see a directions heatmap in GMB Insights that shows where they're searching from.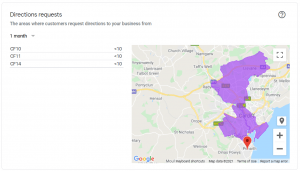 This heatmap is a fantastic tool for local firms since it lets you know where your potential customers are coming from. This may assist you in determining the areas to concentrate your marketing efforts.
To fine-tune your advertising and marketing targeting, use the postal (zip) code and location data provided in the directions heatmap. You may, for example, restrict your Google Ads targeting to specific postal codes or geo-target social media campaigns using this information.
Phone calls
If a user has called your Google My Business listing after searching for it, you'll be able to monitor that information from this part of the Insights tab.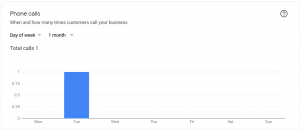 (The business with this listing gets direct emails rather than phone calls. It still shows the phone calls made however low.)
This data may also be used to determine which day of the week and time of day generates the most calls from GMB, allowing you to fine-tune ad performance or help you decide when to publish a new Post.
Photo views
As we already know, photos are critical to GMB success and may influence how much traffic flows to your website from your Google My Business profile.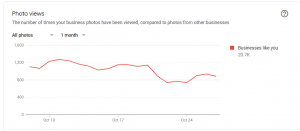 The Insights part of the page will show you how your photos stack up against those of your competitors. You can see how many times your own images have been seen as well as how they compare to businesses similar to you, all in one place.
If your photos get a lot of views, you may confidently continue to use the same style. Fewer views imply you'll have to reconsider your approach to pictures and perhaps conduct some personal competitor research to figure out where you're going wrong.
Photo quantity
The photo quantity insight shows how many photographs are on your business listing compared to those of your competitors. If you have less images, it's a signal that you should add more.
Google My Business Post Insights
You'll probably be in the habit of checking post views and likes when you publish a blog post or update your social media page.
Google My Business Insights offers you some useful data into your GMB Posts, in a similar way to Google Analytics for Websites. You may get data about your GMB Posts by going to the navigation and selecting Posts; you'll be able to see how many new views your postings have received the week before.
There you go. That is how you can use Google My Business Insights to help improve your listing. I hope you have found this useful. If you have, please comment below.