SEO (or search engine optimisation) is the process of ensuring that your content is seen by as many people as possible. This is achieved by optimising each web page to get to the top of the search engines and other factors detailed below. Relevance to the topic is key.
It's important to note that search engines rank web PAGES, not web sites. Every website is a collection of pages and each need to be relevant to the content topic on each page. The site is like a library of this overall content.
In this guide to SEO, you will find out everything a beginner needs to get started. You will learn about all of the important factors needed to rank your web pages in the search engines.
SEO can be broken down into three major components: On-page SEO, Off-page SEO and Site Performance.
On-Page SEO refers to all those factors which affect how pages rank in search engine results pages (SERPSs). This includes things like keyword research and placement; site structure; URL construction; image alt text and caption optimization; link building strategy and more
Off-page SEO refers to everything that doesn't happen on a specific page but affects its ranking nonetheless – for example, links from other sites pointing back at it or social media marketing activity.
Site performance relates to how well a website is performing in technical SEO terms. Things like page load speed have a big impact on SEO.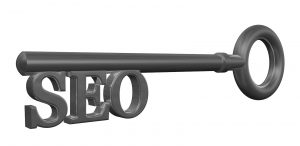 How Search Engines Work
Search engines use a variety of factors when it comes to SEO, and understanding these factors will help you determine which SEO practices work best for your website. Search engine crawlers crawl through web pages and collect data about them, such as titles, meta descriptions and content. Websites with the relevant keywords in the right place will rank higher in search engines than those without.
Website creators can improve SEO by including relevant keywords in the title, meta description and content of their page. It's also important to ensure that URLs are SEO-friendly and to always include a keyword-rich title and meta description for every page on your site.
Relevance to Search
Even if you place all your keywords in a page title and meta description, SEO won't work effectively if your content doesn't contain any of these words at all. Relevance is key.
Keywords need to be placed in the right context in order for SEO to work effectively. It's important that the relevant keywords and synonyms of those keywords can be found throughout the content on your page. This means that SEO is more about the words being used in context rather than just being on the page.
Thinking about relevance, Search engines will show you results based on your search. So if you search for a "pancake recipe" (411,000,000 results), you won't see results on pancake delivery for example: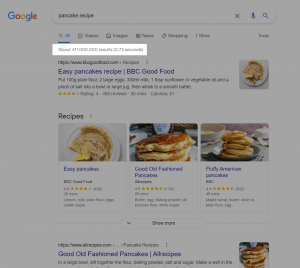 Authority
Website authority helps you find out how your website fares in SEO terms. It's the process and analyses of on-page SEO, off-page SEO and site performance. You'll get an overall benchmarking analysis and score and be able to compare it with other websites.
Authority is defined as the search engine's method of determining whether material is correct and trustworthy. The issue is: how can they tell if a site is authoritative? They look at the amount of other relevant sites that link to it and their authority too.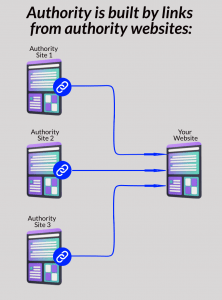 The better quality the site that links to your own, the more authority is transferred to your website.
Google seems to have this well covered and is why it is the biggest search engine. Others are catching up though.
Is The Content Useful?
Authority and content quality is obviously good for the search engines to determine the ranking of a web page. Good quality content it often well linked to, but is it actually useful to the average reader?
Google has stated that there is a distinction between high quality content and useful content, and each will impact on the ranking of a web page.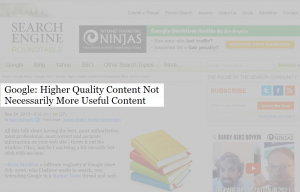 Let's think about a top quality scientific study on a new health based product as an example.
This content will get lots of links from other web pages, social media or many other sources because it covers everything included in the product. If there is a problem, it could be that the content could be disorganised and full of medical jargon that the average person may or may not understand.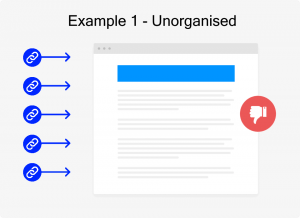 For those researching and have medical knowledge, the content would be a great source for their research. It probably won't be useful to the general public though.
Now let's think about a review of the product from the consumer's point of view.
The reviewer will be looking at the product to see how useful it is, if it works and if it's worth purchasing or not. They will structure the content in a more understandable way and answer questions the public will want the answers to in simple language.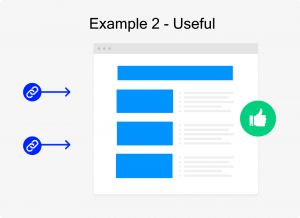 Although the web page in the first example will have more authority in the expert field, have more backlinks from authority sources, the content is not as useful as example 2. Web page 2 will be more useful to the general public because it's understandable and it may actually rank higher than the first web page example for that reason alone.
The search engines will look at usefulness from the standpoint of user experience. If the content in example 2 is more understandable, more of the general public will click on it and react more favourably. This means that example will get a significant boost in ranking because of this interaction.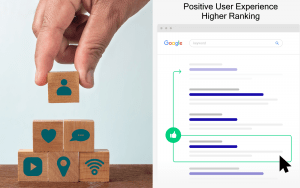 So, if you can create web pages that people love and interact with, you will have a good chance of getting good rankings. Structure your site with relevant content to your niche and you will gain popularity and authority naturally.
So let's get into how you can learn more about SEO and put this into practice step-by-step.
How SEO Works
Search engine optimisation is important for both small and large businesses. SEO is the process of making a website to rank higher in search engine results. It can take some time, but SEO can be done by anyone. SEO means improving your website's visibility for search engines and future visitors. SEO should be viewed as an investment and not an expense, as it usually leads to increasing revenue and other business benefits.
The first step is to make sure your website is visible to crawlers and bots who help evaluate your site's worthiness through SEO techniques like their page relevance, accessibility, loading speed, how well it's organized, content quality (length and readability), architecture (crawlability), design quality, social media presence, usability and SEO.
If your site is visible, then you can focus on the next important SEO factors that will rank your website higher: link building and content optimization. Both of these SEO strategies will help determine your website's value to search engines and how they'll present it to users/visitors.
Link building or inbound links from relevant websites to your own site is a way gain more authority. Content Optimization method uses specific SEO techniques like adding keywords and synonyms into the content. Google in particular loves content that has a theme with many relevant words and phrases included naturally throughout.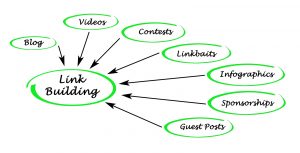 SEO factors you should use to rank your website are constantly changing. You will only get better with time and practice. You'll get more familiar with SEO techniques as you get used to them.
What Does SEO Include? Search engine optimisation involves a lot of different strategies, but it mainly consists of three parts: technical SEO, On-page SEO and off-page SEO . Let's go over each one separately:
Technical SEO includes all the little details that will help improve how search engines see your web page in relation to others in the index. They're things like using correct HTML tags, choosing good metadata/keywords for title tags and meta data, SEO friendly URLs, SEO friendly code, using schema markup, page load speed and more.
All are an important user experience feature and is a big ranking factor too.
On-page SEO is how to optimize your web page right at the source. Writing naturally themed content for search engines and users/visitors alike so they both get what they need out of it.
This includes writing good meta data tags with your keywords correctly placed and keeping things brief and concise without too many unneeded filler words.
You can do on-page SEO by yourself if you know how to structure the content in such a way that it is well themed, good quality and readable. Relevance to your topic is vital.
Off-page SEO factors are about how other websites, social media sites or online communities can impact your SEO considerably. You want to make sure that you're getting good links from these pages with relevant content. The one off page SEO factor that is most important for SEO is backlinks .
Backlinks are the links that point to your site from other pages on the web. The more high quality backlinks that point to your site, the better your SEO will become. Making sure you have a diverse number of backlinks is also very important for SEO.
The final SEO factor would be tools . Tools for SEO are used to monitor SEO efforts and measure their success or failure. Such tools include Google Analytics, SEO checklist, website auditor and tools that help with ranking analysis.
SEO Tools are must in order to do SEO by yourself. There are lots SEO services online who provide tools for free or for a price, depending on the company's business policy. You can also find tons of SEO software online that will optimize your SEO rankings to the max.
If done correctly, SEO is kind of fun! You get to know more about website content structure and how it effects search engine results. You should try doing some off-page SEO techniques and understand the process at least. If you find it too difficult there are many seo agencies out there who can help you get great backlinks and more to rank your web pages well.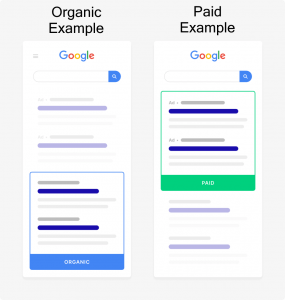 Organic Search Results
Organic search results are the free, unsponsored links that are found in the search engine's main index. SEO is all about getting your website to rank high in organic search results for keywords that are related to your site's content. It is only concerned with giving your site more visibility by better rankings in organic search results.
The organic search results will generally be the best optimised, most useful and relevant content you are looking for when searching. SEO doesn't have anything to do with getting people to visit your site through buying advertising space.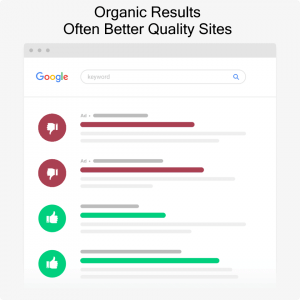 Getting your web pages ranking highly in the organic search results is important. It means your content is highly relevant and good quality. The best thing the visitors come to your page free and any sales you make will mean more profits.
Paid For Search Results
Paid search results are the sponsored links that you find in the search engine index.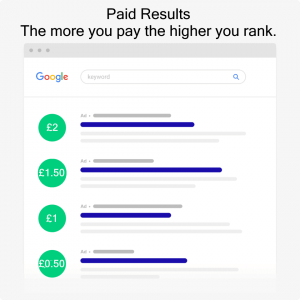 Unlike organic SEO, paid search attempts to bring traffic to your website by buying advertising space from a search engine. In most cases, the more you pay, the higher you will be in the search results. There is still a requirement for relevance to search though.
Paid search can be used in circumstances when you want a company or product to achieve higher visibility on the search engine's first page. In this way, it can help you get more new visitors and boost revenue. Paid search is also know a Pay Per Click advertising.
Why is SEO Important?
The SEO process is essential for any web content. SEO provides search engines with your site's information. When done well, SEO will help your pages rank higher in the search engines for keywords relevant to your content.
SEO needs to be updated regularly to keep up with new changes. It can be time consuming and difficult for some people to manage their SEO on their own. SEO has recently become more important as Google updated SEO requirements, which are now based on user experience alongside and sometimes instead of keywords.
Take a look at the results of these detailed analysis and how it breaks down into percentage of traffic by Growth Badger.
Search is the largest source for traffic to a website.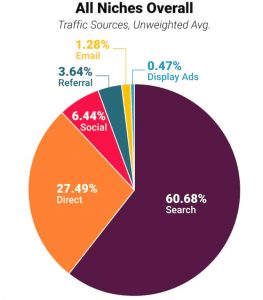 If you think it's Facebook or social media, think again! Social equates to just 6.44% of total traffic according to the chart. That is ALL social media.
Search engines equate to well over 60% of traffic to a website, so why wouldn't you want a chunk of that traffic to your own website?
Over 60% of traffic to a web page comes from the organic search results, so SEO is very important for this reason alone!
Let's look at free vs paid.
If you have a web page based on a popular topic that gets over 100,000 searches a month. Getting first position in the search results would usually bring in 20,000 visitors. These are all FREE from advertising and based on the relevance and other SEO factors we have spoken about to this point. Yes, you will need to get good backlinks, which we will expand on later, and a few other things.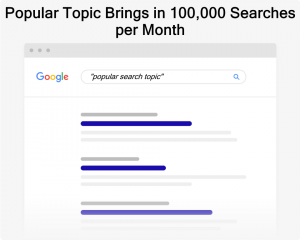 Let's say the top paid listing pays £1 a click. To get the same amount of visitors, they will pay £20,000 for what your page gets for no more than the initial cost of getting your SEO set up and your page ranking well.
What do we learn from this?
If you have a well optimised, seo-friendly web site, you can rank for more than one keyword and pay nothing for the privilege of being at the top of the search results. Is this important for you, your website and your business?
Customer and Keyword Research
Research is an important part of the SEO process. It's the first thing needed so the rest of the steps after follow on and meet the criteria based around your research results.
This is where you figure out what your consumers search for, and the precise words and phrases they use to look for it. As a result, you will be able to rank your site in terms of things your customers search for on a daily basis.
Here's how to do it:
Customer Research
If you already operate an online business, you're almost certainly familiar with your target consumer. This is also known as "Customer Persona".
This sort of customer research isn't only for the purpose of helping you come up with products or services your consumers want, it's also an essential component of online marketing and content development. To be successful with SEO, you must produce content on subjects your customers are searching for. And unless you know who your consumer is (i.e., what they like and dislike, their fears, motivations, etc.), you simply won't be able to produce relevant targeted content on your site.
Customer research is the first step in the SEO process for everyone looking for success on the internet. If you don't know your consumers or who they are, then no matter how well optimised your site is, you won't rank well. Without relevant content tailored to your customer persona, you will likely fail.
What is the best approach to get a deep understanding of your target consumer? HubSpot's Make My Persona tool is one of the most effective.
Create a customer persona with this handy-free tool. You'll be left with a complete avatar that you can use again and again at the end of the process.
Finding Keywords
Now that you've acquired a consumer persona, it's time to get down to business with keyword research.
Here's when you go into extensive detail about the words and phrases (search queries) that people use to locate what you offer. In general, keywords fall into two categories:
Those used by consumers to find what you sell (in this case, your Product Keywords), and those used by people who are interested in getting more information about your associated subject (information keywords).
Let's say you sell Golf Clubs. Your potential customer will search for golf clubs, golf putter, golf irons etc.
Then there are those looking for things like golf courses, golf days and more phrases that require information.
When you are creating your content, it's important to optimise based on both types of keyword. This will give you more opportunity to rank for your product and associated keywords. Search engines love the relevance you are offering to the subject.
Keyword Research Tips
Here are a few pointers to assist you in locating keywords.
Google Autocomplete – This function may be familiar to you.
When you begin typing anything into Google, you'll see a slew of search suggestions:
I recommend that you type in keywords on Google and make a list of any ideas that appear.
Go to Answer the Public and type in a keyword or phrase:
Answer the public is really good to find informational keywords and phrases. Put a keyword in and you can download a CSV of the results.
See what I got when I entered affiliate marketing:
There were 360 results for that keyword. As you can see from the highlighted areas, you can find great ideas for blog posts with a little research.
Next, Use a Keyword Tool:
Keyword research tools can help you figure out how many people search for each term and how difficult it will be to rank on the first page of Google for that phrase. In other words, they may assist you in selecting the finest keywords from your list. There are a lot of keyword research tools available. Here are a few I recommend:
The best free keyword research tool is undoubtedly Google Keyword Planner. Although it was created to find keywords to use within Google Ads, it's also extremely useful to find keywords for your SEO needs.
All that is needed to find product or informational related keywords is to enter one or more keywords and you will be shown data including search volume results, competition and related keywords.
This data will give you insights into what keywords are worth targeting or not.
Last, but not least, if you are new and want to start making your mark, you need to target what is known a long tail keywords.
Longtail keywords are basically less competitive keywords. They are longer phrases that are searched for and easier to rank for than the very competitive high value keywords. They still have the potential to be highly profitable.
Long tail SEO is a technique wherein you target more specific and less competitive terms in order to rank on search engines. It's often easier than directly targeting those popular high volume keyword phrases because those may be too competitive for you to rank on page 1. SEO tools such as Ahrefs and SEMrush can help you find long tail keywords with relatively low competition and good search volume.
As you get more authority into your site, you can start to target the more competitive keywords, but it's best to stick to longtail keywords as you do this.
If I were to start a new website, I would be using longtail keywords with low competition, high search volume wherever possible.
Some examples of long tail keywords are:
Examples of longtail keywords are:
Let's look at Digital Marketing, which is very competitive:
Longtail examples could be:
Small Business Digital Marketing Agency
Small Business Digital Marketing Services
Digital marketing for local business
Digital marketing solutions
Each of the longtail examples include digital marketing in the phrase, but they are much less competitive than digital marketing on its own.
Create SEO-Friendly Content
There's no doubt that SEO and content are inextricably linked. In general, the higher you rank, the better your content is. It's (obviously) not as simple as that. But it's a good rule of thumb to keep in mind while writing SEO-friendly content. With that said, here are some additional tips for producing SEO-friendly material.
Content Creation for Product and Service Pages
Product and service pages should always have high-quality content. But this does not imply that they should read like blog posts.
The main purpose of your product pages is to convert visitors into leads and consumers. As a result, you want your product pages to concentrate on the characteristics and advantages that your goods provide.
To see an example of both product and informational content I did a search for "business development software" and came across this page on Deal Cloud:
This is a well structured page that gives calls to action throughout the page. Also there is a lot of good information, so the best of both worlds. They go through the benefits of their software and how it can help a business. it's a good web page, but not a blog post in format. Because it provides the sales options AND the information, it's much more than a blog post.
Follow this golden rule: Make your product page content as useful as possible. However, don't forget that conversions should be your top priority.
Creating High-Quality Blog Content
When people say things like "content is king," they're usually referring to the type of insanely helpful content that blogs provide.
(In other words: not content that you find on most product and service style pages.)
It's also true that producing amazing material may help you improve your rankings.
It's also true that businesses publishing blog content regularly get 55 percent more visitors than those who don't put as much effort into their content marketing, according to HubSpot.
To be successful with search engine optimization in today's climate, your site must consistently provide outstanding content. Anything less will not suffice.
In fact, WordPress data show that 70 million blogs are published every month:
That is, in a nutshell, the situation. People publish millions of posts on WordPress, then there is Medium, Shopify, and other platforms too!
In order to stand out (and rank) in 2021, your material must be fantastic. Otherwise, it will be overshadowed by the hundreds of thousands of postings that come out every day.
Examples of High-Quality Content
I'd like to share a few examples of excellent high-quality material that is currently performing well in 2021.
List Posts
These are the lists you make. They're also known as "Complete Lists."
These are good for a variety of reasons, including that you're assembling items from several sources. Instead of having to read one post with 20 tips and another with 15, your content provides people all they need on a single page.
Sharing your content and getting more people to read and share it can lead to good natural backlinks citing your content all over.
Step-by-step Guides
A detailed step by step guide is a good SEO tactic to use on your website.
It helps SEO because it provides an easy, uncluttered shortcut to all the steps involved in accomplishing a task.
It also helps because sometimes search engines will rank these as one of the top search results for that particular task.
Step-by-step guides can also help SEO because they're easier for the reader to understand and will attract more traffic from those looking for solutions.
The first step and most important is listing out all of the steps required. If this was about SEO for example, you can create the list in order of sequence.
The second step is to describe each of the steps in detail and provide extra information on how long it should take and what tools are needed.
Data Driven Content
Most data driven content can be found by searching different trends. Neil Patel runs through 10 content marketing trends that should be considered:
Neil always manages to get plenty of shares and natural backlinks to his content.
That being said, Data driven content is not always easy to get to get natural backlinks and shares. Because there is so much content being published every day, it doesn't get easier to stand out.
It is still possible to get links when the content is based on "authoritative research and reference content", so it's not all bad news.
In other words, content with data is still very effective.
Creating data-driven content may be difficult, but if you're up to the task, this Backlinko article will show you how to get started.
Complete Guides
Complete Guides are similar to list posts, which we discussed previously.
The major distinction is that a Complete Guide does not necessarily outline a long list of suggestions or examples. Rather, you're going over every aspect of a topic in more depth.
Yes, you still want to provide actionable tactics. However, the primary aim is to offer someone everything they need to know about a subject on a single page.
In this type of blog post, a list post is not enough to "fit the bill". It needs to be a more complete strategy guide instead.
Covering new, hot subjects not only increases the chances that your guide will be noticed, but it also increases the likelihood that you'll attract a large audience.
Visual Content
According to one study in the visual content industry, one form of visual content (infographics) is a great way to get links (and traffic).
Infographics are not the only way to make visual content. Videos, flowcharts, screenshots, as well as other forms of visual material are available. You may also use different sorts of visual content in tandem, such as "Instructographics."
If you want to know more about infographics and instructographics read this article.
The Basics of On Page SEO
On-page SEO means that Search engines can find your web pages so they can show them in the search results. To do this, you will put content on your website that is relevant to what people are looking for when they search.
The search engine will analyse your website for particular terms and phrases.
When one term appears frequently on a site, the search engine says: "This page must be about this keyword!" When it sees the same phrase over and over again, it believes that the page is about that particular term.
That's why it's critical to use your target keyword on your webpage… without going too far.
(More on that later.)
For the time being, let's look at how to improve your website's on-page SEO.
Install Rank Math SEO Plugin
Having tried many of the SEO plugins, the best one in my opinion is Rank Math.
Having learned so much on SEO from Matthew Woodward, I would like to share this review of Rank Math that he wrote on his award winning blog:
https://www.matthewwoodward.co.uk/seo/reviews/rank-math/
Any SEO plugin will help you in your task to create a well optimised web page. Rank Math it no exception. It can help you to set up your meta tags. Title, description and url structure. It does this by means of a check list that guides you.
In your title tag, use the keyword you're targeting.
The most important rule of on-page SEO is this:
Use your keyword in the page's title tag.
Why is this important?
Your title tag is, without a doubt, the most crucial element of your page when it comes to on-page SEO.
Consider it this way: Your title tag sums up your page's purpose. When you use your keyword in the title tag, the search engines understand that your page is focused on that subject.
Always be sure to include your keyword in your title tag.
Increase the number of clicks on your site by optimizing your meta description.
Your meta description isn't nearly as crucial as your title tag. According to Google, they don't pay much attention to your description (or meta keywords). This doesn't mean that other search engines don't.
So, why should you care about writing a description? Because people use your description to determine whether or not to click through to visit your website.
Include your primary keyword in your description. When someone searches for that term on Google, it will make your keyword bold…which helps to distinguish your site even more in the SERPs.
Use Keywords Throughout Your Content
Then, you should include your keyword on your page a few times. This will guarantee that the search engine is certain your webpage is about that subject.
Let's say you have a page with 3000 words on it. If you only include the main keyword about 6 or 7 times, which is not a high density, it's certainly enough for the search engines to know the subject of your content. The search engines will know more about your content if it has a niche related theme to it.
Another thing to keep in mind is that you don't want to include your keyword 100 times on your page. This is an unethical SEO practice known as "keyword stuffing," which can result in a penalty.
Include your main keyword on your page a few times. It's not a huge deal if you go a little over or under the recommended amount of times. However, if you purposely cram keywords into your content, you're actually causing more harm than good.
Use Synonyms and Variations
Make sure your content uses synonyms and variant terms for your intended keyword. This can help you rank for many different keywords on a single page.
Use a lot of variants of your keyword, commonly referred to as "LSI Keywords" (terms that are directly connected to the main keyword).
Let's assume you just put up a post that is optimized for the term "digital marketing tips." You would want to incorporate variations of that phrase in your content, such as:
Online marketing tips
Beginner blogging tips
Business marketing tips
In Google and Bing Suggest, look for variations of your term that make sense. Simply input your keyword into the search bar to get a list of suggestions.
Have you seen any that seem relevant to your material? Make use of them!
Optimise Your Images
Unlike a text-based article, search engines have a hard time understanding what's inside of an image.
So they rely on your image's filename, alt text and title to figure out what an image actually is.
And if you run a site with lots of images, image SEO is SUPER important. Otherwise, Google will have a hard time understanding what's on your page.
With that, here's how to optimize your images:
First, give your image a descriptive filename. Use a relevant keyword in the filename if you can.
Then fill in the alt tag for the image using your keyword in a description of that image.
The last step is to give your image a title. This could be the same as the alt tag. It's nothing too much to worry about.
User Experience
You might have a website that is 100% SEO-optimized, but what if it's not easy to read because of the design? Maybe the content is a series of bullet points without any substance?
It won't rank for long if it ranks at all!
Despite the fact that User Experience is subjective (which makes it difficult for big search engines such as Google, Bing, and Yahoo to assess), it does influence your SEO indirectly.
People won't share your site if it's difficult to use. And without links and shares, your chances of ranking are virtually nil.
Find out more about User Experience in this handy guide.
Content Quality
You've no doubt heard that "high-quality content" is necessary. It is.
The problem, as I said before, is that high-quality material isn't enough on its own. Your content must be nothing less than EXCEPTIONAL in 2021 to rank highly.
It must also fulfil the demands of those searching for your target keyword.
Intro to Technical SEO
Technical SEO is a very broad topic. The major objective with technical SEO is to guarantee that search engines can readily find, crawl, and index all of your website's pages.
However, technical SEO has grown to include things like site loading speed, mobile optimization, and more in recent years.
Most website owners don't have to be too concerned about technical SEO. (Especially if their site is built on WordPress.)
However, you shouldn't neglect technical SEO completely. A single error might result in the deindexing of your entire site.
Here's a rundown of how to get your technical SEO in order (no coding skills required) for those who are new to the process.
Verify Your Site With Google Search Console
Google Search Console is a dashboard that shows the health and performance of your site in Google from indexing to rankings.
(Bing also has their own version called Bing Webmaster Tools.)
You'll need to confirm that you're the site's owner in order to use Search Console (Google refers to sites as "Domain Properties"). When you do, you'll be given access to a fantastic tool that tells you how many people visit your site and click on it in Google search results.
But that's only the beginning. Google Search Console comes jam-packed with useful tools to submit your sitemap straight to Google, see how many pages are indexed, and much more.
Make Sure To Use an SEO-Friendly URL Structure
The majority of people put little effort into their URLs.
If you're not careful, you could end up with very long and complicated urls.
URLs, as it turns out, are an important part of your site's SEO.
So, thinking about URLs, be sure that:
Your URL structure is the same. That helps search engines figure out what category your pages belong to. Let's imagine you have a category URL like yoursite.com/fitness, ensure that any fitness-related pages come under that category: yoursite.com/fitness/bench-press. If you don't use category pages, you can use yoursite.com/page-name.
Keywords in URLs are a must. There's no need to keyword stuff. Just make sure that your target keyword appears somewhere in your URL, whether it's one or more words long. yoursite.com/target-keyword is an example of a valid URL with keywords included.
Remove anything that isn't necessary. In Google, URLs with fewer characters tend to rank highest.
The issue is: Should you go back and alter your current URLs? It is, of course, up to you.
I usually advise people to keep their URLs the way they are… even if they aren't perfect. Instead, concentrate on generating SEO-friendly URLs for future pages that you create.
However, if you do want to update your URLs, be sure to 301 redirect the old ones to the new addresses. And, if this new architecture generates several pages with similar content make sure you make use of canonical URLs.
Review and Optimise For Page Speed
It's important to make sure your site loads quickly and reliably across all browsers and devices (just like SEO). Google, and many other search engines, use page load speed as a ranking factor.
When we say "speed," we mean how long it takes a page to fully render in a browser (usually assessed in seconds or milliseconds). Users will abandon slow loading websites if they have other choices. With SEO, you want to ensure that the user will stay on your page for as long as possible.
Fortunately, Google does not make you guess if your site is too slow.
They have a way to check the speed of your site on all devices. It's called the PageSpeed Insights tool.
It gives your page a score from 0 to 100. Not only does it give you an overall evaluation of how fast your site performs…
…but it also offers suggestions for improvement.
(Note: If you follow the recommendations provided to you, you may be able to improve your site's loading speed using a number of WordPress plugins. If not, you may need help from a developer to modify your site's HTML.)
As you can see, I still need to make a few improvements. This result will help.
Make Sure You Set Up HTTPS
According to Google, websites that are secure with HTTPS have a slight edge in the search results. In reality, according to Mozcast, 98.5 percent of the first page listings are encrypted using HTTPS security.
Also, browsers are showing whether a site is secure or not in the address bar at the top of the browser page.
If your site isn't secure, I strongly advise you to make the switch as soon as possible. The only problem with switching to HTTPS is that your pages will have new URLs. So it's critical that all of your pages redirect to the same address.
If you're stuck and need some hep with this, have a look at this checklist.
One question may are asking is: "Will switching to HTTPS improve my rankings?".
Possibly. If you have an ecommerce site, or a site where you take payments for services, then it's more likely to be yes. People need to know they are using a secure site.
HTTPS may not be an important ranking factor for many sites though.
Google has said that HTTPS is a "tiebreaker".
You may find your site rise just one place in the search listings if all other aspects of SEO are the same. So, if you rank position 7, you may move up to 6 when you add HTTPS to your site.
Site Architecture and Internal Links
When your site is just getting started and has just 5 or 6 pages, structure isn't critical. But when your site grows to hundreds or perhaps thousands of pages, how you organize them matters a lot. To begin with, you'll want to establish an organized structure (also known as a "hierarchy"), which is where categories come into play.
Next, you should point internal links to your site's most important pages.
That's all there is to it. The only other thing to keep in mind is that you want your internal links to have keyword-rich anchor text.
So, don't use "click here" as your anchor text if you're linking to a page about fitness and bench press exercise. Instead, make sure your anchor text includes a keyword, such as "this bench press exercise guide".
Optimize For Mobile
Mobile-optimization is now more than something that is preferred to have, it's essential.
Why? Because Google's algorithm is now mobile-first.. This means the mobile version of your website is the main version Google sees.
If your site loads quickly on desktop but takes a long time to load on mobile, Google may determine it to be slow.
You can check if your site has any mobile usability problems using Search Console.
You don't have to jump through technical hoops to find out if your site loads fast, the search engines give you a mobile friendly test tool, like Google's own "Mobile-Friendly Test" tool.
If your website isn't mobile-friendly, it's a problem that should take precedence over everything else.
Make sure you don't use "Interstitial Popups" for mobile search users. According to Google, utilising these sorts of popups may have a detrimental influence on your rankings.
Track Results in Google Analytics
How can you tell if all of your SEO efforts are paying off?
Surprisingly, one tool can help you answer that question: Google Analytics.
Here's how Google Analytics can help you with your SEO efforts:
You can follow (and see) changes in organic traffic over time. You're most likely on the right track if you see a graph like this.
You can figure out which pages get the most traffic from search engines. This way, you can concentrate on what's working.
Google Analytics makes it simple to track how people use your website. Bounce rate and pageviews help you assess whether your content is suitable for Google searchers.
With Google Analytics, you can also analyse conversion tracking. You can use this information to figure out if the traffic that comes in from SEO is actually converting into leads and sales.
The Basics of Link Building
The objective of link building is to get other websites to include (and link to) your website. This is also known as "Off-Page SEO."
IMAGE
Backlinks, which have been the backbone of Google's algorithm since its inception, are still extremely vital.
Since 2016, Stone Temple Consulting (now Perficient) has been analysing the same set of search results.
Their findings show that links continue to strongly correspond with Google first page rankings.
The impact of links is essential for SEO. And things aren't going to change any time soon.
Link Authority
Not all links are created equal. For example, a link from a reputable, authority site will pass more "link juice" to your site than a link from a smaller, low-authority website.
Domain Authority and Page Authority are two ways of measuring a site's authority.
The Domain Authority of a site is simply the overall domain's authority. So, even if a certain page doesn't have a lot of links directing to it, its Domain Authority ensures that it still has some weight to throw around.
Page Authority is the authority of a single webpage.
If you want to learn more about link authority metrics, take a look at this video from Moz.
Of course, you want links from high-authority sites' authoritative pages. The problem is that obtaining these links is extremely difficult.
Focus On Getting Links From Related, Relevant Websites
"Get links from relevant websites" is a golden rule when it comes to generating links to your website.
This is due to the fact that links from sites related to yours have a higher SEO value than links from sites in other sectors.
Links from relevant sites demonstrate to search engines that your links are genuine. So, get these included in your link profile. It would seem odd if the majority of the links leading to your fitness site originated from home improvement sites.
(Note: It's perfectly fine to get a few references from unrelated sources. However, if the bulk of your link profile consists of inbound links from unrelated sites, you have a problem.)
Any link that is related to your niche subject will be considered as a relevant link. If you have a fitness and physical exercise, a link from a fitness equipment site will still have some relevance.
You may be asking how you can get links to your site. I will go through that, but first there is something you need to know more about…
White Hat vs. Black Hat SEO
One of the first things you'll notice is these white hat and black hat SEO terms.
Ten to Fifteen years ago, ALL SEO was "black hat". Shady link-building strategies were popular because they worked.
Now? These sorts of shady link-building tactics are no longer effective. They also have a negative impact on your site's credibility. They can also lead to a penalty or removal from search results entirely.
I don't recommend taking the risk of using "black hat" techniques. It's just not worth it!
How can you tell whether a certain link-building approach is black or white hat?
The "link schemes" list on Google is a great resource. This is a constantly updated list of things that Google thinks are unethical.
Did you pay for links? Regardless of how you look at it, paying someone for a link is always against Google's rules.
Is the link "earned"? In other words, did someone link to your site because they thought it was valuable? This is the best kind of link.
Let's be clear:
Black hat SEO is more than just using dodgy link building techniques. There are many more black hat methods that are not connected to links (eg doorway pages).
When people use the phrase "black hat SEO," they usually mean black hat link creation.
With that in mind, let's go over a few white-hat link-building tactics that I employ.
The Skyscraper Technique
The Skyscraper Technique is a link-building method developed by Brian Dean of Backlinko to produce appealing content that will assist you in obtaining high-quality editorial links. The approach, which is built on three fundamental ideas, also operates under the principles of these three concepts.
This what Brain says about it:
If you're new to SEO and content marketing, I recommend The Skyscraper Technique because it takes a lot of the guesswork out of creating content that bloggers and journalists will be likely to link to.
That's not to say this process is easy. Far from it. In fact, this approach takes a ton of hard work.
But the reason I recommend starting here is the fact that Skyscraper content is relatively straightforward to create and promote.
Here is his video of a case study on how to do this kind of post:
Guest Posting
Using guest posting in your link building strategy could be seen as controversial.
That's because guest blogging can quickly go from being a reputable strategy to gain traffic and exposure to a black hat method.
However, when done correctly, guest posting is an excellent way to get some early links and attention for your website.
Here are some pointers to bear in mind as you begin guest posting:
Make sure you put your guest posts on related sites only. It's a big warning sign if you publish many guest posts on unrelated websites.
Use your brand name as the anchor text for your links instead of keyword-rich anchor text. (like: IM Training Paradise).
Don't expand this too much. Guest-post backlinks should make up roughly 5% of your link profile. Anything more than that may get you into trouble with search engines.
If you want to learn how to submit articles to authority sites in your niche, see this guide.
Linkable Assets
A catch-all phrase for anything that people would link to. And trust me when I say this goes WAY beyond "nice content."
That's because there is already so much "excellent material" out there. And repeating another "10 Tips to Lose Belly Fat" article isn't going to persuade anyone to link to you. Instead, create content that is expressly created to attract links.
Here are some examples of Linkable Assets you can create:
Industry study
Myth-busting article
Visual guide or resource
Free tool
Curated list of tips, examples or resources
Since we are talking about linkable content, why not look at this example:
If you take the time to read through this content, you will see how informative it is, and how educational too. This makes it shareable and linkable to.
Search Intent
The primary aim of a search (also known as "User Intent") is to find information. There are actually four different kinds of Search Intents. And understanding search intent is critical for success in SEO in 2021 and beyond.)
Let's say that you want to go get some Indian food for your evening meal. You might look up "Indian food London" if that's what you're searching for.
Your search is transactional in nature. You're looking for somewhere to eat.
But, for example, let's suppose you want to prepare a chicken curry at home. You'd undoubtedly look for something like "indian chicken curry recipe."
In that scenario, your search intent is informational. You need information on how to make that dish.
And the more closely your content relates to search intent, the higher you'll rank.
See this example where one of my websites show up at number 1. Someone is researching a company and wants to know if it is legit. A common term for this is (company) scam or (product) scam. The intent is to find out if there are people against the company or product and deem it a scam or not.
User Signals
How does Google know whether a page is appropriate for a user's intended purpose? As it turns out, Google keeps an eye on how people use its search results.
If they find that searchers are quickly moving on to another result after seeing your content, Google will regard your material as no longer pertinent for the search… and you will be downgraded.
In reality, marketers such as Larry Kim have been able to link organic click-through-rate to Google rankings.
There is something called "Pogosticking" that is far MORE important that CTR.
Want to know what this is? Pogosticking is the practice of users switching between search results in order to discover something that helps them most.
If search engines see that people frequently bounce back from your content to the search results, that's not good and you need to try to change that.
Optimising for User Signals
Your first step is to ensure that the material you're posting meets the search intent of your target keyword. If your content isn't a good fit for what someone wants, Search Engines WILL notice.
Here are some more things you can try to ensure that searchers like your content:
Use a no-nonsense beginning. So, rather than stating "This topic is crucial for X, Y, and Z," say "Today I'm going to teach you how to X."
Images and graphics are a great way to liven up your content. Images are far more visually appealing than an article entirely consisting of text. Long-form articles especially benefit from them.
You can include both internal and external links to your page. People will be able to learn more about the themes you cover in your post… without having to go back to the SERPs.
Improving your loading speed will help you gain visitors. Bounce rates are significantly higher on slow-loading websites. In fact, according to Pingdom, there is a direct link between page load times and bounce rate.

Make your material easy to read. Large typefaces (I use 17px) are a good idea. Bullets and numbered lists might help you organize your material. And make use of H2 and H3 headers to split up your information into logical segments.
Keep your content up to date and current. I've found that a major update to old material generates a "Freshness boost." Users, on the other hand, want to read new material that is 100% relevant right now.
Emerging SEO Trends
Let's round out this simple SEO guide with a few recent trends in the digital marketing environment.
To be clear: I only suggest working on these things once you've mastered SEO basics. However, if you're ready to get into more advanced things, this part is for you.
Schema Markup
There is no relationship between Schema markup and first page rankings, according to a study of search engine ranking variables.
Many people took that result to mean, "Schema isn't effective!"
And sure, if you believe adding Schema markup to your page will improve your organic rankings, you will be disappointed.
One thing to bear in mind is that employing Schema correctly might improve your organic click-through rate. Even if you don't receive a ranking boost, your SEO efforts can pay off by giving your page a bit of added exposure.
Look at this example:
Which one stands out? Naturally, the one with review stars!
Review stars (and other kinds of "Rich Results") are only feasible if your site's HTML includes Structured Data. As a result, I strongly advise using Schema.
E-A-T
Google especially is putting more emphasis on E-A-T (short for "Expertise, Authority, and Trustworthiness").
Why?
The point is that Google wants to be 100 percent confident that the material in search engine results can be trusted.
There's a lot of discussion about E-A-T in the SEO community right now. However, the bottom line is that for Google to give your site a high E-A-T rating, it must be recognized as an authority in your industry.
For example, Wikipedia probably has the best E-A-T score of any website on the internet. Thousands of contributors (including many specialists) contribute material to the site.
There are no shortcuts when it comes to raising E-A-T. It will be difficult to achieve E-A-T if your site offers generic, interchangeable content written by freelance writers.
However, if you provide high-quality material authored by acknowledged specialists, your E-A-T will be in good shape…
Plus, as with many other things in SEO, E-A-T is impacted by links. In fact, Google even says that PageRank is a big part of establishing E-A-T.
Voice Search SEO
It's no secret that the number of people using voice search has exploded in recent years.
Google has made it clear that nearly half of all adults use voice search everyday.
When voice search is mentioned, many people ask, "What's the point of optimising for voice search? Even if I'm #1 on Google Home, no one is visiting my website."
It's a valid question for sure.
Voice searches can be utilized on any device with internet access. They are not only for smart speakers like Amazon Alexa.
According to Search Engine Land, 1 in 5 searches done on mobile phones are voice searches.
More and more people are opting to use their voices rather than a keyboard. This has an impact on mobile and even desktop searches. In other words, the number of people who bypass their keyboards in favour of voice is growing every day.
One of the most significant trends in SEO and digital marketing is voice search. When it comes to local SEO, it's particularly important.
As more consumers start to search using their voice, publishers will have to develop and optimise content specifically for voice searches.
Core Web Vitals
Google rolled out a "Page Experience Update" in the summer of 2021.
This new update takes into account what Google calls Core Web Vitals.
Core web vitals look for things relevant and important for user experience.
While the impact of Core Web Vitals on rankings is unclear, it's definitely worth optimising for.
In your Search Console account, you can see your site's Core Web Vitals report:
Optimise YouTube Videos
YouTube is the second most popular website in the world.
YouTube is not only a popular social networking site like Facebook, but it's also an extremely popular search engine. This means that SEO is critical for rankings on You Tube.
You Tube videos are taking up a bigger part of Google's search results as well according to Sistrix.
Sure, YouTube videos have been in Google's search results for years. They've taken up more SERP real estate in the past 18 months or so…especially above the fold:
In the future, having a presence on You Tube will be even more essential for SEO.
Conclusion
I hope you found this SEO introduction useful. I wanted to go beyond a basic definition of SEO in this post so that you may understand what it truly entails. And, most importantly, provide you with several step-by-step procedures for getting started.
Although it might appear complicated at first, learning about SEO is actually straightforward. The possibilities are endless, and they all revolve around the idea of finding new customers for your business.
So I advise beginning with the fundamentals: make sure search engines can properly crawl your site. Start developing keyword-optimised content next. Finally, make use of outreach to get backlinks.
These three stages are the basis of SEO.
Once you've mastered that, move on to more advanced topics like YouTube SEO and voice search, which will help you rank even higher.